Welcome,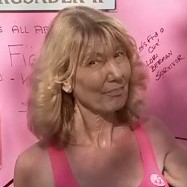 My name is Acelia McEvers. Ace is short for Acelia. Ok, my mother started it and it stuck. Thus, Aces Pink. Gotta love mothers.
This blog is in response to a request from my A-team oncologists, Dr. Elisabeth McKeen and Dr. John Rimmer. My good friend, Dr. Frank Ervolino, helped save my life. He chose my oncologists (who also helped save my life) and guided me throughout my breast cancer treatment. To my complete surprise, these highly experienced doctors joyfully christened me the first patient they had seen this healthy after harsh chemotherapy. They asked me to share what I did to help others.
I grew up on Long Island in NY in the township of Oyster Bay. I had terrific parents, a sister and four brothers, one of whom was born severely autistic at a time when autism was rare. We raised him at home and worked to create special needs services in a time when there were none.
In the last 14 years, all five of my siblings passed away young, along with my beloved mother. Three from cancer, none from natural causes (except my dear dad, old age). Yet, I have no genetic markers for cancer.
In facing life's joys or its hardships, I always feel blessed beyond measure to have been lovingly raised in a Catholic family with clergy on both sides. And to have had my mother, an intensive care RN educated by the Sisters of Charity and my father, a financial executive educated by the Jesuits, as my role models.
My father, also a WWII Veteran, lived long enough to see me cancer free. At 90 years old, he passed away peacefully on Christmas Day 2016.
In Oct 2015, I was diagnosed with stage 2 breast cancer and prescribed chemotherapy followed by surgery. Immediately, in addition to the cancer, I was frightened of chemo and its side effects.
A little knowledge can go a long way. At a young age, I had contracted a mildly paralytic type of polio. I already knew what it meant to be chronically disabled for months and years at a time from post-polio syndrome (PPS). The potential side effects of chemotherapy can be permanently disabling or, in extreme cases, life threatening. The thought of being helpless and disabled again frightened me as much as the cancer. My determination to maintain a strong immune system helped me through chemo.
From November 2015 through the end of February 2016, I received 6 chemotherapy treatments every 3 weeks consisting of hard chemo drugs, taxotere and carboplatin, along with infusions of the biologics herceptin and perjeta (antibodies against receptor). Herceptin infusions continued through November 2016.
At the end of my chemotherapy my oncologists approved me for surgery that day. We were ecstatic! The longer a patient must wait after chemo for their immune system to repair (enough to risk surgery) gives cancer a chance to grow back.
Shortly after chemo ended, I had a 7-hour surgery: bi-lateral mastectomy with reconstruction. Doctors and nurses who saw me a few days (and weeks) later were sure I had postponed my surgery. Once again, to my surprise, as well as theirs', I responded to surgery far healthier than average. Another reason to share what I did.
Currently, I am cancer free, NED (no evidence of disease). And still ecstatic!
A little more on the personal side. My home now is in beautiful Jupiter, FL, a small beach town on the Atlantic. I have 3 loving children (a son and a niece and nephew whom I raised from when they were young because they lost their parents) and 4 grandchildren.
A Picture Essay
October 2015, my birthday party several days after diagnosis. No chemo yet.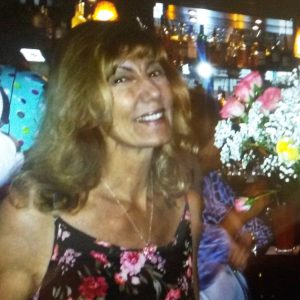 Dec 18, 2015. Star Wars The Forces Awakens, opening night. Lifelong fans of the Force, the children and I waited ten years for this next episode. With my #1 Jedi Knight, my son, Alex Black, in his authentic Hans Solo garb, complete with boots and blaster. Two months earlier, my oncologist said I'd be bald from chemo by the time Stars Wars opened. Then I learned about cold caps. Happily, I kept some hair.
Christmas 2015. If you've never seen a cold cap, here I am sporting one. Chemo days meant 13 hour days changing cold caps every 30 minutes and refreezing caps to 20 degrees below zero (F) to be placed back on my head. It required 2 and 3 Jedi Knights at a time, skilled in the Force, who could simultaneously point and shoot an infrared laser thermometer while safely managing 100 lbs. of dry ice and a breast cancer patient with a chemo infusion needle in her arm. My hair thinned, but I never lost it. I love Christmas.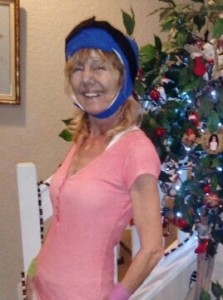 October 2016. Fast forward to my next birthday, one year after my diagnosis, now cancer free, I received the best birthday present of my life! I asked my son, Harmony Martial Arts Instructor, Alex Black (also on American Ninja Warrior), for a picture of him in the red rock mountains doing one of his martial arts kicks. I never dreamed, of all places, he would choose this dangerous 6-story high, treacherously narrow arch (Devil's Bridge in Sedona, AZ) to "kick breast cancer".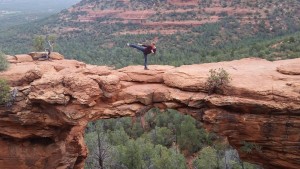 We plan to make this picture available in our future Aces Pink store. Proceeds will go to breast cancer research and awareness and to support the Aces Pink team who make this blog possible.
October 2016, my next birthday party, now celebrating cancer free (NED). Friends, Brenda and her husband Connie McGinnis, surprised me with a pink VIP birthday at their band's Halloween event. That's me with Brenda (she's in costume on the right). Connie is in-between us, on stage in the hat, guitar in hand, standing under the winged EraSmith sign. EraSmith is a world class Aerosmith tribute band.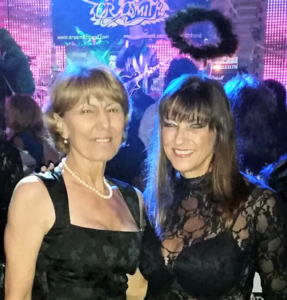 Has your life been touched by breast cancer? Have it or had it? Helped it? Healed it? Cared for someone? You're all Aces to me. All Pink Stars, Pink Diamonds.